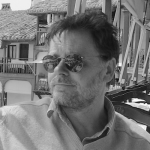 Chris Cairns is a political cartoonist and author living in Edinburgh. A former journalist with The Scotsman, he has also written freelance for The Sunday Times, The Herald and Scotland on Sunday, among others. His books include the best socio-political history travelogue ever written about golf and a gritty urban thriller set in Portree.
He once almost knocked Fidel Castro to the ground and has never had a hole-in-one in his life. He also likes to talk about himself in the third person.
Contact him by clicking here.
Welcome to Cairnstoon
Capturing the Campaign, December 2014